Handheld Video With Panasonic S5 - No More Gimbals?
Shooting Handheld Video
PANASONIC S5 - RUNDOWN
Back in September 2020, Panasonic announced the S5 - a smaller, lighter full frame camera that would beef up their S Series.
The S5 boasts extremely powerful video functions that can be compared to cameras costing double its retail price, and the full frame sensor coupled with the high quality L Mount glass makes it a dream for stills shooting, too.


IBIS/Dual Image Stabilisation - Why Do You Need It?
One of the main selling points for me was the 'legendary' Panasonic IBIS that was now implemented in a smaller full-frame camera. I had been using the Sony APS-C lineup of cameras for pretty much everything since 2018 and those bodies don't have IBIS (apart from the a6500/a6600, and it's hardly worth mentioning for video).
The Panasonic S5 coupled with the S 24-105 F4 OIS lens allows for Dual I.S - so the results should be pretty good, right?
Building a Handheld Rig
Up until this point, I would always use a gimbal for video work. They're relatively inexpensive and it's pretty easy to get the smooth results you're after (if you balance it correctly). However, I shoot both photo and video (sometimes on the same shoot), so balancing a gimbal and tearing it down again every 20 minutes can become extremely time consuming and annoying. Therefore, I decided to try out filming JUST handheld on a client shoot with my Panasonic S5 and the 24-105 lens. But before I did that, I needed to look a little more legit… So I built this rig: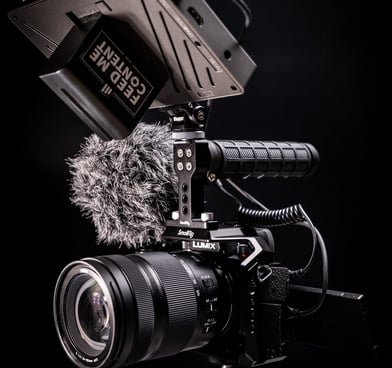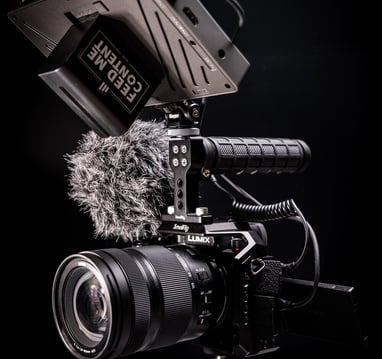 What you're looking at is the above camera and lens set up with the Small Rig S5 Cage (2983) and the Small Rig Rubber Handle (1446). The screen I'm using is the BestView R7 Monitor and the microphone mounted to the side is the Movo VXR10. This set up allows for comfortable handheld shooting for a longer period of time, and the extra weight helps to eliminate the micro-jitters you get when shooting with something that isn't a fully fledged cinema camera.
OVERALL EXPERIENCE
You know what, I actually really enjoyed shooting handheld for once. You get this freedom that you don't when using a gimbal and I found myself shooting at different angles than I normally would have thought to just because the set up wasn't as 'mechanical'. The Small Rig cage and top handle made it very comfortable to handle over a longer period of time and the added weight really made the entire experience feel more solid.
I was pretty happy with the results (although they're not as smooth as a gimbal), but some organic camera shake that isn't too distracting can actually add to the narrative I believe. I didn't shoot in the higher frame rates at all (so no 120p/150p/180p) purely because I kinda feel like that's 'cheating' a little bit when it comes to shooting handheld. Don't get me wrong, it's a useful tool when you need a more dramatic sequence, but for the most part I shoot in 25p and 50p, so I didn't want to change that just because I was shooting handheld.
DOES THIS REPLACE A GIMBAL?
The short answer is no. I would never feel comfortable walking or running with a handheld set up and I would always reach for my gimbal when the need for those type of shots arise. However, for the intimate B roll shots that only require movements that are achievable by standing still, then yes - I would definitely say you can get away with it. I think the point I'm trying to make is that the Panasonic S5 has enabled a completely new style of shooting for me, and having a camera that produces beautiful handheld results just adds to the versatility of the system. Over the next few months I can see my gimbal gathering a little more dust than it's used to since I rarely need to run or walk when I'm filming for clients. Just don't go selling your stabilisers just yet if you do get the S5; it's a safety blanket that i'll happily admit to keeping close at all times.